Anthony Davis, Director
Auditions went well for our spring production, Neil Simon's RUMORS! First rehearsal was scheduled for Wed., January 17th. SCHOOL CANCELLED FOR THAT DATE. Rehearsals will begin on Thursday, January 18th at 3:10 p.m. until 5:00.
Field Trip for Drama I and II/III classes: The Greatest Showman trip, planned for Wednesday, January 17th, has been moved to Thursday, 18th, pending approval from the bus office. Please have money ($7) and field trip form (or a parent note, signed) on that Thursday morning.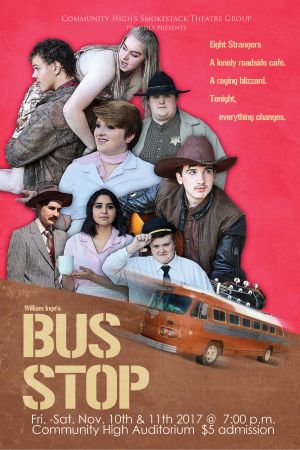 Bus Stop - Program (Fall 2017)
William Inge's BUS STOP
When a winter storm strands eight strangers in an isolated roadside cafe, each is forced to face personal issues during a night that will change their lives forever. The play was made famous by a film of the same title, starring the legendary Marilyn Monroe.

And Then... - Program (Spring 2017)


Les Mis. - Program (Fall 2016)